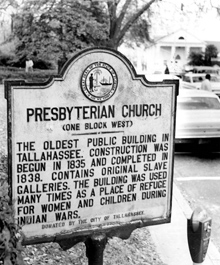 Organized on November 4, 1832, First Presbyterian Church is one of the oldest congregations in Tallahassee. Its Greek revival sanctuary, completed in 1838, is the only church building still standing from Territorial days. 
From its beginning, the church has been involved in the life of Florida's capital city. The Territorial government designated the sanctuary as an official refuge in dangerous times, and to this day the church is a place for refuge, service, worship, study, and nurture.
Several local service organizations got their start at First Presbyterian, including Habitat for Humanity and the Shelter of Leon County.